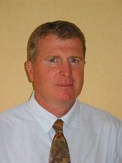 Les Simpson
RPSurv, MNZIS,IQP(Whg), Director
Les was born in Whangarei and spent most of his early years on the Coromandel Peninsula.  He graduated with a Bachelor of Surveying degree from Otago University and was Registered in 1995.  Les has worked in Whangarei for the last 20 years.
Involved  in many large scale Subdivisions and Engineering Projects, Les has achieved a high level of experience in Land Development.
Jon Partridge
Senior Technician
Jon has over 17 years experience.  He was born in Whangarei and has worked predominantly in the Whangarei, Northland area.  Jon's experience in field work has given him good hands on knowledge of physical site works and boundaries.